We recently donated knitted blankets and hats to New Cross Hospital Neonatal unit and got a lovely letter acknowledging it.

With the current restrictions on groups we haven't been meeting up as we would usually do, but we continue to knit for good causes.  Can you knit?  Is this the sort of thing you'd like to get involved in? Then please get in touch via the Contact Us page and someone will get back to you.
---
The Woolgatherers met on 20th January 2020 at the Crown for their first monthly "Knit and Natter" of 2020. Our numbers were swelled to 7 thanks to a couple of new faces and we had a very enjoyable evening. Our current projects include blankets and hats for the Neo-natal unit, Smoothie hats in aid of Age UK and Christmas baubles and trees to be sold at the Christmas Extravaganza in aid of charity.  We now meet on the third Monday in the month at 7.30pm.  Feel free to join us, the more the merrier.
BACKGROUND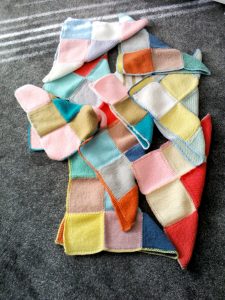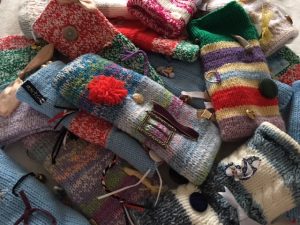 We used to meet once a month on the 4th Tuesday at The Crown pub where we knit and natter.
We have been very productive in recent months. The group have knitted 504 little hats for Innocent Smoothies in aid of Age UK, 8 blankets and children and baby clothes for the Buhoma Community in Uganda, 120 angels and snowmen in aid of the Friends of Albrighton Swimming Pool, 58 Remembrance poppies for the WI County project, 51 little red hats for premature babies through the Albrighton Library Appeal and in excess of 49 blankets for the Neonatal Ward at New Cross Hospital, Wolverhampton as well as a number of twiddle muffs for dementia sufferers at The Cedars Care Home.
Meeting in the local pub definitely contributes to the enthusiasm of the group!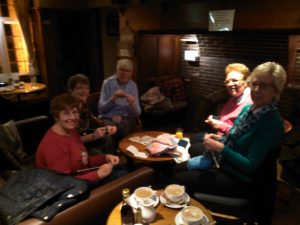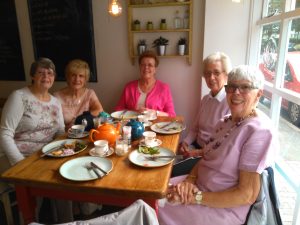 A knitting free lunch.